Clean Energy Canada | Webinar: What net zero means for Canadian energy jobs
May 1, 2023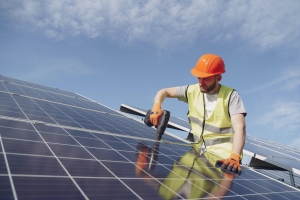 You're invited to a Clean Energy Canada webinar on May 29 at 1pm ET/10am PT on the opportunities the energy transition will bring for Canadian energy jobs.
We'll dive into Clean Energy Canada's latest modelling of Canadian energy jobs in a net-zero world, followed by a panel discussion and Q&A with labour and industry leaders featuring General Motors' David Paterson, the International Brotherhood of Electrical Workers' Matt Wayland, and Chandos Construction's Jen Hancock.
A recent Clean Energy Canada report revealed that there would be 700,000 more energy jobs in 2050 than exist today if Canada and the world reach net zero, with growth in clean energy jobs outpacing declines in fossil fuels. Meanwhile, the federal government recently launched a series of sustainable jobs plans to ready the workforce for this inevitable energy transition.
With 92% of global GDP now covered by net-zero commitments, decisions made today will shape the success of Canada's energy sector in the years ahead.
Canada's clean energy sector is made up of companies and workers that help reduce carbon pollution, whether by generating clean energy, helping move it, reducing energy consumption, or developing low-carbon technologies. It is a truly pan-Canadian sector, from the assembler producing electric vehicles in Windsor, to the construction worker building energy-efficient housing in Yellowknife, or the lineworker building power lines that will help electrify our lives.
The energy transition represents a huge opportunity for Canadian energy workers. But success is not inevitable, and challenges lie ahead—from the risk of climate policy rollbacks to potential skills and labour shortages.
Register now to join the discussion about what Canadian governments, industries, and workers must do to prepare for the changing world of energy.
SPEAKERS
David Paterson, vice president, corporate and environmental affairs at General Motors of Canada Company. David leads Communications, Government and Environmental Relations for General Motors Canada and is a member of GM's global Public Policy and Communications teams. David is a past Chair of the Canadian Chamber of Commerce and currently serves on the Board of Directors of the Canadian Journalism Foundation, the Canadian Vehicle Manufacturers' Association, the Canadian American Business Council, and the Executive of the Canadian Automotive Partnership Council.
Jen Hancock, vice president collaborative construction at Chandos Construction. Jen has worked for Chandos for the last 15 years and has helped lead many of the company's innovative practices in that time. She helped set up the company's net zero 2040 strategy and works primarily as a coach, facilitator, and trainer for project teams with a focus on integrated project delivery, collaborative construction practices, lean, sustainability and is a driver of EDI initiatives.
Matt Wayland, Canadian director of government relations at International Brotherhood of Electrical Workers. Matt is often the go to voice for the labour movement when it comes to a "just transition." Matt is a licensed red-seal electrician/inside wireman and has been a proud member of IBEW Local 303 St. Catharines, Ontario, since 2001. He is on the board of directors for the Canadian Climate Institute, has served on the Task Force on a Just Transition for Canadian Coal Power Workers and Communities, and co-chaired the Ministerial Advisory Committee on a national campaign to promote the skilled trades as a first choice career for young people.
Rachel Doran, director of policy and strategy at Clean Energy Canada. Rachel brings nearly 20 years of experience in policy, politics, and law to advance clean energy solutions for Canada's sustainable economy. Prior to joining Clean Energy Canada, Rachel served as senior special advisor to the Minister of Environment and Climate Change, advisor to the prime minister, and chief of staff to Ministers of Justice and Indigenous Services.
Stefan Pauer, manager of technology and economic analysis at Clean Energy Canada. Stefan ensures that Clean Energy Canada's research, analysis, policy perspectives, and communications are accurate, credible, and defensible. Before joining Clean Energy Canada, Stefan carried out interdisciplinary research on climate policies in California and Europe at the University of British Columbia. Previously, Stefan worked as a Policy Officer at the European Commission, where he helped develop and implement the European Union's carbon market.