Clean Energy Canada | Video: Christiana Figueres on Canada's position in the global clean energy transition
June 29, 2017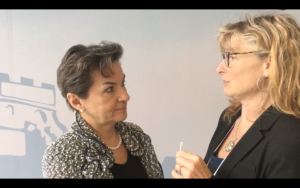 The Clean Energy Ministerial held in Beijing, China, earlier this month drew some of the world's A-list climate and clean energy experts. Among them was Christiana Figueres, the former executive secretary of the United Nations Framework Convention on Climate Change (the body responsible for tracking and coordinating countries' efforts to reduce greenhouse gas emissions under the Paris Agreement).
In conversation with Clean Energy Canada's Merran Smith, Figueres—widely recognized as an authority on the global clean energy transition—shared her perspective on Canada's standing and future prospects in that transition.
She acknowledged that Canada's historic reliance on fossil fuel exports represents a unique hurdle in building a clean economy.
But that challenge is far from insurmountable, Figueres said. And Canada's future success in navigating the risks and opportunities created by the shift to clean energy will depend on how well we expand our thinking past exporting fossil fuels, and shift to marketing our citizens and companies to a world seeking clean energy technology and expertise.
"We have to move to the future looking through the front windshield, and not through the two rear view mirrors. So yes, we do know where Canada's coming from, but the important question is where does Canada want to go? And how does Canada see itself fitting in with the concert of nations that are all joining a decarbonized global economy?"
Of course, any discussion of Canada's clean energy ambitions requires a look at the broader context. With Trump pulling the U.S. federal government out of the Paris climate change agreement, can China continue to lead the shift off fossil fuels? Will solar stay the darling technology worldwide? Watch Merran Smith's interview with Christiana Figueres for her perspective on these and other questions.