Clean Energy Canada | Turning action into law: government's accountability legislation a critical step
November 19, 2020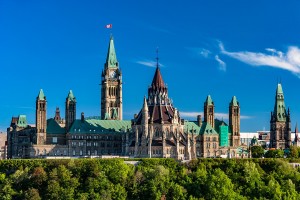 TORONTO — Sarah Petrevan, policy director at Clean Energy Canada, made the following statement after the federal government tabled legislation holding it accountable to meeting its climate targets:
"Climate targets are important signals in the fight against climate change, but promises are nothing without accountability and a plan to meet them.
"Today's accountability legislation provides just that. With five-year milestones, progress reports that are made public, and an independent advisory panel to offer expert advice, this law will help ensure all sectors are on track toward a net-zero future.
"We particularly welcome the new requirement that the federal government report on its own climate-related financial risks and opportunities, under the purview of the finance minister. This is an important step toward a more holistic government approach to addressing climate change, and we hope Canada's private sector and other countries follow this lead.
"Lastly, while accountability is a critical component in the decades-long fight against climate change, it's certainly not the only one. We await the federal government's plan to meet and surpass its 2030 climate target, both through policy and through investments in the forthcoming budget and beyond.
"But today was a key milestone for climate action in Canada—one that will ensure future milestones aren't just symbolic."
KEY FACTS
The legislation will ensure Canada reduces carbon pollution from the 729 megatonnes in 2018 to its stated goal of net-zero emissions by 2050.
The federal government will have to set a target and plan every five years with details on how it will reach the targets, starting in 2030. This will include a progress report released at least two years before each five-yearly target.
The legislation calls for the creation of an independent 15-member advisory panel.
B.C. was Canada's first province to introduce climate accountability legislation that legally commits it to meeting its 2050 climate target.
The U.K. was the first country to introduce climate accountability legislation.
The EU has proposed legislation that would legally bind it to its commitment to be climate neutral by 2050. The plan is pending approval from member states and the European Parliament.