Clean Energy Canada | The worst plan is no plan when faced with an inevitable energy transition
March 8, 2023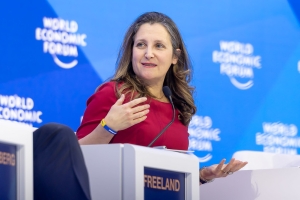 Much hullabaloo has been made about the federal government's clean energy transition plan.
Alberta's premier went so far as to suggest that 2.7 million jobs would be "eliminated" in the process. This is, well, nothing close to accurate. Rather, 2.7 million Canadian jobs currently exist in sectors that will be transformed by the global energy transition, according to a ministerial briefing note.
This may fall on deaf ears in the throes of a provincial election, but political leaders aren't judged by their talking points of the day. Instead, they're judged on where they succeeded, or failed, to prepare for a foreseeable future.
And this one is very foreseeable.
To date, 88 per cent of global emissions, 92 per cent of global GDP, and 85 per cent of the world's population is covered by some kind of net-zero commitment. The question is whether Canada sails with the wind, or against it.
According to the International Energy Agency, in a net-zero 2050, the price of oil would drop to less than US$30 a barrel. With the breakeven price of the oilsands well above this, many Canadian projects are simply too expensive to be economical in a world that requires a lot less carbon.
The good news? As Clean Energy Canada will soon reveal in a forthcoming report, Canada will actually see a net increase in energy jobs by 2050 if we and the world achieve our net-zero ambitions—the key difference being that most will be in clean energy.
In fact, the International Energy Agency recently noted that clean energy employment now accounts for just more than half of the global energy workforce. But for Canada to gain these jobs and GDP benefits, it needs to not only keep its climate policies, but also build on them.
There are big opportunities in emerging sectors like the battery supply chain, which alone could support up to 250,000 jobs by 2030 while adding $48-billion to the Canadian economy annually, once again assuming governments meet the opportunity head on (to their credit, the federal, Ontario, and Quebec governments have helped secure billions of dollars in electric vehicle-related investment already).
Indeed, the transition to clean energy represents the economic opportunity of our lifetimes, and it therefore requires—and Canadians deserve—a good plan.
Broadly speaking, Canada can do three things: implement domestic policy to support our sectors and accelerate the transition at home (so we don't fall behind); encourage investment in key industries that will be part of the transition (so there will be more jobs); and, finally, foresee the jobs and skills that will be required and get people prepared (to benefit workers but also to make Canada a competitive investment environment).
In just the last year, America's US$370-billion Inflation Reduction Act rocked the global balance of power and the trajectory of energy as we know it. The European Union's response, in the form of its Green Deal Industrial Plan, earmarked 250-billion euros in spending and tax breaks for clean energy over the next decade.
If America's actions have lit a fire under the EU, Canada—a much smaller economy more closely integrated with the United States—should really be feeling the heat. Last year's Fall Economic Statement laid out Canada's initial response, but what's still missing is a clean industrial strategy, matched with key investments in the 2023 budget to stay competitive.
Canada doesn't have America's firepower nor endless resources for every potential sector. We must instead be swift and targeted to maximize economic growth and job creation.
That means focusing on activities with the greatest value for Canada. Our lithium shouldn't merely be exported, for example. We should use it to make batteries at home, developing our own domestic expertise, research and development outputs, and intellectual property.
Similarly, Canada's relatively clean electricity grid means we can produce batteries today with a smaller carbon footprint than elsewhere, and yet we've been slow to add more renewables and improve our transmission infrastructure. Clean electricity will be the lifeblood of clean industry.
Finally, the federal government's recently released interim Sustainable Jobs Plan, whose measures include establishing a new training centre along with a government advisory body, is a crucial step in the right direction. Backed with appropriate funding and legislation, it will help ensure Canada navigates the energy transition with foresight and intention.
Pretending this isn't happening will not save jobs, but it will leave Canada unprepared.
There are indeed many important conversations Canada needs to be having about its energy future. But all of them involve facing facts—not making them up.
This post was co-authored by Rachel Doran and originally appeared in the Hill Times.