Clean Energy Canada | The time for funding electric buses is now
February 4, 2020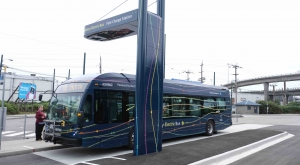 VICTORIA — Merran Smith, executive director at Clean Energy Canada, made this statement following Vancouver transit provider TransLink's request for funding from the federal government for the electrification of its bus fleet:
"Electrifying transit is an unmissable opportunity to fight climate change. Transit already reduces personal car use, but electric transit turns a good solution into a great one, enabling millions of Canadians to get around pollution-free.
"In B.C., replacing a diesel bus with an electric version is equal to taking 26 cars off the road each year, based on Clean Energy Canada's analysis. They also improve air quality and reduce noise pollution, leading to healthier, quieter communities.
"TransLink has a plan to electrify its entire bus fleet by 2040, but action needs to start now. Buses hitting the road today will still be driving a decade from now, and we cannot afford to lock in obsolete technology. Electric buses are smart investments. The dividends? Huge fuel savings, less pollution, healthier riders, new jobs and opportunity for Canada's electric bus manufacturers.
"Last year, the governments of Canada, B.C. and Vancouver signed the Drive to Zero pledge, signalling a commitment to reduce pollution from commercial vehicles like buses. The prime minister's mandate letter to the minister for infrastructure and housing also indicated that new federal transit investments should support zero-emission buses.
"TransLink is ready and willing, but they need federal support in the upcoming budget. Let's not miss the bus on this one." 
KEY FACTS
Transportation is responsible for nearly a quarter of Canada's carbon pollution.
13% of the world's bus fleet is already electric
Over 99% of the world's electric buses are in China. Shenzhen is home to 16,000 electric buses, not only the largest electric bus fleet in the world, but the largest bus fleet of any kind on the planet.
There are four electric bus manufacturers in Canada: GreenPower Motor Company, The Lion Electric Company, New Flyer Industries and Nova Bus.
Each new electric bus is expected to cut 100 tonnes of carbon pollution per year compared to a diesel bus, according to TransLink.
RESOURCES
Report |  Will Canada Miss the Bus?