Clean Energy Canada | The Glasgow Climate Pact: What does it mean for Canada's climate policy?
November 16, 2021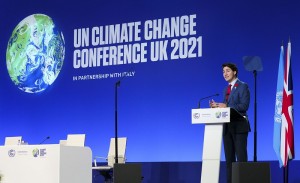 COP26 ended on Saturday with a new deal to try and limit global temperature rise to : the Glasgow Climate Pact. Reaction to the deal has been mixed, ranging from anger and disappointment to cautious optimism.
There is certainly grounds for both optimism and pessimism from the past two weeks of intense negotiations. On the plus side, the pact reaffirmed the central importance of (our best chance to avoid the worst impacts of climate change), mentions coal and fossil fuels for the first time, and calls for countries to "revisit and strengthen" 2030 climate pledges by the end of 2022 instead of waiting another five years.
However, analysis published during the summit found that current 2030 pledges still put the world on track for heating of or more—a catastrophic outcome given the extreme weather affecting many Canadians this year under of warming. (If longer-term net-zero pledges are achieved, which is less certain at this point, global warming could be contained to .) Rich countries, including Canada, also failed (and expressed their "deep regret" for doing so) to meet a target of supplying US$100 billion in climate finance annually to help developing countries prepare for climate change. And the initial language on phasing out coal and fossil fuel subsidies was watered down (to "phasing down" and "inefficient" subsidies) at the last minute by India and China with U.S. support.
At the same time, COP26 did make progress on a number of important issues. Below, I highlight a few of these and explore what they mean for Canada.
The end of coal is closer (but still too far)
The International Energy Agency was clear in its landmark report earlier this year: phasing out coal power by 2040 is a key milestone on the path to net zero. Glasgow moved us a step closer to this goal, with almost 200 countries pledging to "phase down" unabated coal power in the final text ("unabated" refers to coal power without carbon capture and storage). On top of this, 46 countries signed up to the Global Coal to Clean Power Transition Statement to phase out coal in the 2030s (for rich countries) and 2040s (for developing ones). While not yet in line with what is needed to limit warming to , this is still a big step for countries that rely heavily on coal power.
Canada can rightly consider itself a leader in this respect, with Ontario closing its last coal power plant in 2014 and other provinces ahead of schedule in meeting a national 2030 phaseout target. Canada also committed to ending exports of thermal coal by 2030 and $1 billion. However, much work remains: coal still accounts for at least one-third of global electricity generation, and, in spite of the clear link between coal burning and higher temperatures, its use has increased in 2021 as economies reopened and energy demand shot up.
Finance is shifting away from fossil fuels 
Banks and major investors with 40% of the world's financial assets committed to carbon neutrality by 2050 under the Glasgow Financial Alliance for Net Zero. Since its launch in April, the Mark-Carney-led coalition has grown from assets worth US$70 trillion to $130 trillion. While questions remain about how this will be achieved, the message is clear: the finance sector is slowly but surely moving away from fossil fuels. Canadian pension funds, often maligned for their dirty investments, have quietly cut fossil fuel holdings by 90% over the past decade, while ploughing $150 billion into clean energy.
Making these aspirational pledges real will depend on two things. Firstly, improving disclosures so that investors have a better understanding of the climate risks or opportunities of their investments. And secondly, setting clear standards and definitions around what investments are in line with net zero. Progress is being made on both these fronts. The Canadian Securities Administrators is proposing to mandate climate-related disclosures for listed companies starting in 2023. And the global accounting body, the International Financial Reporting Standards Foundation, is set to launch a new International Sustainability Standards Board (located in Montreal) to bring much-needed consistency and rigour to such disclosures. Meanwhile, the UN said it would launch its own expert panel to sort legitimate net-zero targets from corporate greenwashing.
Heavy industry and government work together
Decarbonizing heavy industry is the "next frontier" for climate action and one that offers plenty of opportunities for Canada. Several side deals at COP26 between governments and industry should help accelerate industrial deDecarbonizing heavy industry is the "next frontier" for climate action and one that offers plenty of opportunities for Canada. Several side deals at COP26 between governments and industry should help accelerate industrial decarbonization. These included the Glasgow Breakthroughs, which aims to make climate solutions like green hydrogen and near-zero steel "accessible and affordable" by 2030, and the Industrial Deep Decarbonization Initiative, a promise to purchase low-carbon steel and concrete and align government spending with net zero. Major private sector buyers also got in on the act, with a First Movers Coalition of 34 companies promising to grow demand for low-carbon steel, cement and other industrial products, and 28 companies separately pledging to scale up production and demand for low-carbon hydrogen.  
The focus for Canada is now on swift action
Canada reaffirmed a number of commitments and in some cases added important new details. Notably, Prime Minister Trudeau stated that oil and gas emissions will be capped "at today's levels." An existing pledge to phase out fossil-fuel-powered trucks and buses by 2040 now includes an interim target of 30% by 2030. The government also restated several election commitments, including that 100% of new passenger vehicle sales be zero-emissions by 2035 and that all electricity should be emissions-free by the same year. Canada also re-committed to phasing out international fossil fuel financing by 2023 and reducing oil and gas methane emissions by 75% by 2030.
Polling released during the summit found these policies are broadly popular among Canadians, with almost two-thirds supporting the oil and gas cap. Modelling by think tank Clean Prosperity also suggests that these policies could get Canada close to the lower end of its 2030 climate target (40-45% below 2005 levels).
This, of course, depends on how quickly and effectively the government moves to implement them. Summit speeches and pledges are good at grabbing headlines. The real work must start now: with 2030 only eight years away, we have no time to waste.