Clean Energy Canada | B.C.'s move to lower fossil fuel emissions signals a more sustainable, competitive direction for the province's economy
March 14, 2023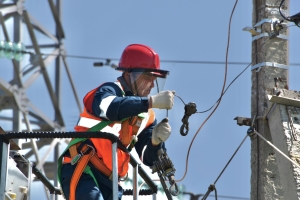 VICTORIA — Mark Zacharias, executive director of Clean Energy Canada, made the following statement in response to new B.C. government rules to lower emissions in the fossil fuel sector and create a new Clean Energy and Major Projects Office:
"Today's announcement signals a new direction for B.C.'s economy—one that aligns with our closest trading partners and neighbours in Washington, Oregon, California. America and the EU are betting over a trillion dollars on a clean energy future.
"The new Clean Energy and Major Projects Office is a smart move that will allow the province to focus on economic opportunities that will be growing in 2030 and 2040, like the copper and nickel needed for batteries or green hydrogen and renewable electricity to power our communities and industries.
"The focus on electrification, with the newly announced task force, is also a welcome move. B.C. is well positioned with an abundance of zero-emission hydroelectricity, but we will need more clean power as we electrify our homes, vehicles, and businesses. We'll also need more transmission lines to communities, industries, and our transportation corridors. In many cases, these represent new opportunities for economic partnerships with Indigenous nations around the province.
"Since its inception, B.C.'s climate plan, CleanBC, has been missing clarity on a crucial component: an approach to reduce oil and gas emissions. Today, the government added a fundamental piece of the climate plan puzzle.
"The newly announced cap on oil and gas emissions—which includes LNG facilities—is an important move for both B.C.'s emissions and its future economic competitiveness. After all, a decarbonizing world will want a lot less oil and gas. And B.C. would simply not meet its climate targets with a growing fossil fuel sector.
"We have regulations to reduce carbon pollution for other sectors like cars and home heating, and these new rules will ensure that the oil and gas sector, which is the province's second biggest polluter after transportation, also does its share of emissions reductions.
"Another bold step forward in today's announcement is the requirement that applications for new LNG projects will only be approved if the projects are net zero by 2030, effectively closing the door on new developments that cannot fit into B.C.'s climate targets. Indeed, the International Energy Agency has made it clear that many of the LNG facilities currently under construction or at the planning stage will simply not be required in a world that meets its climate targets.
"What's more, nearly two thirds of British Columbians prefer that the government focus on developing renewable energy over LNG, according to recent polling.
"To that end, it is vital that public money is spent supporting and growing companies and industries that will thrive in the future. Going forward, we hope B.C. will no longer subsidize sunsetting fossil fuel sectors, as doing so will only make it more difficult and costly for future generations to shift their economies and rein in climate change."
RESOURCES
Poll | British Columbians prefer clean energy over LNG, with low support for fossil fuel subsidies