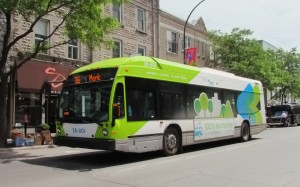 Clean Energy Canada | Ottawa invests billions in zero-emission buses
March 4, 2021
OTTAWA — Joanna Kyriazis, senior policy advisor at Clean Energy Canada, made the following statement regarding the federal government's investment of $ billion in electrified transit:
"Electrifying transit is a key climate solution, taking cars off the road and improving the air we breathe. It also presents an opportunity to support Canadian jobs building the buses and the batteries that power them.
"Today's significant investment will help Canada accelerate toward its climate goals and make good on the federal government's promise to help purchase 5,000 electric buses over five years. It's also an investment in Canada's economy at a pivotal time.
"Already, more than 120,000 Canadians work in public transit across the country, but this new funding also represents an investment in Canada's manufacturing industry. Canada is home to at least six electric bus manufacturers, five of which are Canadian-owned. Buying locally helps scale these companies to better compete in a world that's moving quickly.
"As Canada develops its battery supply chain—from raw metal and mineral resources to our North-America-leading battery recycling companies—we must build the market for electric vehicles and their batteries at home.
"Investing in electric transit perfectly reflects the sort of recovery we need: one that rebuilds our economy, supports local companies, provides millions of Canadians with a way to get around, and aligns with our climate efforts."
KEY FACTS
In February, the federal government announced nearly $15 billion to expand and electrify public transit, of which this $ billion is a part. This was in addition to the $1.5 billion announced for zero-emission buses as part of the Infrastructure Bank's $10 billion Growth Plan.
A 2019 report by Clean Energy Canada and Navius Research found that more than 121,000 Canadians work in public transit.
B.C.'s TransLink estimates that each electric bus swapped in for a diesel version in Metro Vancouver saves 100 tonnes of carbon pollution per year.
Vancouver and Halifax found that electric buses could save fleets tens of thousands of dollars per bus per year on fuel and maintenance.
Canada is home to at least six electric bus manufacturers, five of which—GreenPower Motor Company, The Lion Electric Company, New Flyer Industries, Nova Bus and Grande West—are Canadian-owned. Lion Electric has indicated it hopes to set up a battery plant in Canada in the next few years.
Quebec-based Lithion Recycling and Ontario-based Li-Cycle are North-America-leading battery recycling companies. Their technology recovers up to 95% of the critical materials contained in used batteries, reintroducing them into the supply chain.
In 2019, the government of Canada agreed to increase the use of low- and zero-emission commercial vehicles by making the Drive to Zero pledge.
RESOURCES
Release | Expanding and electrifying public transit exemplifies the recovery Canada needs
Report | Catching the Bus: How smart policy can accelerate electric buses across Canada
Op-ed | What should public transit look like post-pandemic? Clean, comfy and electric
Op-ed | 'Clean stimulus' isn't idealistic, it's good economic policy