Clean Energy Canada | Ontario PCs: abandon carbon pricing at your own risk
February 23, 2018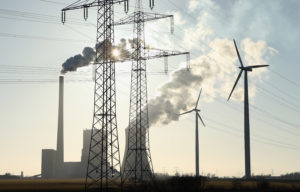 Ontario politics has been turned on its head, again.
With less than four months until the general election, Ontario's Progressive Conservative party is leaderless, and would-be-leaders have already abandoned at least some of the commitments in the party's election campaign platform.
The commitment most quickly jettisoned was the plan to replace Ontario's cap and trade system, which puts a price on carbon pollution, with a revenue-neutral carbon tax.
Politicians and pundits will argue whether the anti-carbon-tax position leaves the PCs with an unfunded platform — an important conversation to have — but the prospect of abandoning carbon pricing would impose other challenges on Ontario.
According to research from Abacus Data, there's a new normal in Canada on the question of climate change, with nearly two-thirds of Canadians wanting real action. As for Conservative voters, 85 per cent believe we have a moral responsibility to those who will live on the planet after us, while two-thirds see a looming financial disaster if we fail to do more.
When asked how climate change will affect who they chose to vote for in the next federal or provincial election, half of Canadian voters said they wouldn't consider a party or candidate that doesn't have a plan to combat climate change, while only 6 per cent preferred a party or a candidate that ignores the issue. As Abacus Data chair Bruce Anderson put it, not having a plan to address climate change "is like campaigning with one hand tied behind your back."
If Canadians want action, the best place to start is with the most effective tool on the table, according to economists of all stripes, and that's carbon pricing. The OECD supported this assertion based on a study of 15 different countries and their policies to combat carbon pollution, concluding that "market-based approaches like taxes and trading systems consistently reduced CO2 at a lower cost than other instruments."
Carbon pricing works because it sends a policy signal that directly affects behaviour, rewarding those who make choices that reduce carbon pollution. What's more, it allows for flexibility in how heavy emitters reduce emissions; they can pay the carbon price or invest in clean solutions — heat pumps, energy storage, renewable natural gas, energy efficiency. And by incentivizing clean solutions, Canada can help grow its clean technology industry, the global market for which is now estimated to be worth more than $5.8 trillion.
If those numbers aren't compelling, maybe the cold, hard truth is: it's going to happen anyway. Canada has made an international commitment to reduce emissions to 30 per centbelow 2005 levels by 2030 and will meet that goal through the implementation of the Pan-Canadian Framework on Clean Growth and Climate Change.
A central pillar of this plan is a nationwide price on carbon pollution, an approach that numerous constitutional and legal scholars have concluded is within the authority of the federal government to enact. While Ottawa is happy to let provinces decide how exactly they want to put a price on carbon pollution, it has made clear that should provinces fail to act, the federal government will do it for them.
Ontario signed on to this approach and has a cap and trade system of pricing carbon pollution, which reinvests revenue into programs and services, such as energy retrofits for schools, hospitals and social housing. These upgrades not only cut emissions, they also cut costs for Ontarians. Which raises the question: why shouldn't Ontario continue to choose how it wants to price carbon pollution?
While the federal government has indicated that, in the event it has to impose a price on carbon pollution in a province, it will return the revenue raised to that province, it will have the ability to choose precisely how and for what the revenue is returned. Abdicating responsibility to the federal government means foregoing the opportunity to control how that money is used.
The reality is that there will be a price to pay for carbon pollution in Ontario, regardless of the outcome of the PC leadership race or the provincial election in June. The only lingering question is whether it will be a made-in-Ontario approach — or one that's made in Ottawa.
This article originally appeared in the Toronto Star.