Clean Energy Canada | How Canadian mines could supply the clean energy transition
June 27, 2017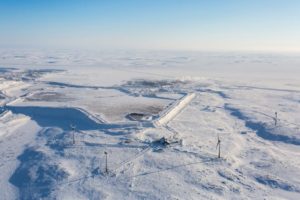 For many Canadians, a clean energy job probably conjures up images of working in an engineering lab, manufacturing solar panels, or assembling a wind turbine. Sectors like mining are rarely top-of-mind in conversations about building a clean, low-carbon economy.
But Canadian resource communities, companies and workers could soon find themselves at the forefront of the clean energy transition—seeing new economic opportunities and jobs emerge as suppliers of the metals and minerals needed for clean energy technologies.
Mining is big business in Canada—and the metals and minerals we're producing are essential to increase the global supply of solar panels, wind turbines, smart grids, LED light bulbs and electric cars. Take copper, for example. As Robert Friedland, founder of Vancouver-based Ivanhoe Mines Ltd., noted at the 2016 World Copper Conference, "Copper is the king of metals…. Every single solution drives you to copper—solar power, wind power, electric cars, you name it."
Home to 14 of the 19 metals and minerals needed for solar PV panels—including six critical materials—Canada could emerge as a key supplier of resources for the buildout of solar power.
Copper has emerged as an essential material in the clean energy transition, not because it's critical for any one technology but because it's critical to the whole clean energy system. The McKinsey Global Institute estimates that primary copper demand could grow by nearly two per cent annually, reaching 31 million tonnes by 2035—a 43 per cent increase over current demand.
Canada has the world's 10th-largest copper reserves, at 11 million metric tons, and was the world's eighth-largest producer in 2016, producing a total of 720,000 metric tons. Natural Resources Canada has identified more than 40 mines, processing facilities and advanced exploration projects for copper—in addition to opportunities associated with mining other metals and minerals it's designated as "clean energy enabling."
Home to 14 of the 19 metals and minerals needed for solar PV panels—including six critical materials—Canada could emerge as a key supplier of resources for the buildout of solar power. The opportunity associated with solar power alone is immense. Thanks to falling technology costs—which dropped 58 per cent between 2010 and 2015—solar is emerging as the leading source of new electricity in countries around the world. In the next five years, the International Energy Agency projects that the amount of solar power capacity worldwide will nearly double.
The global transition to clean energy will create new and growing demand for many of the metals and minerals found in Canada. But if we are to capitalize on this opportunity, a more responsible approach to mining will be required.
The Mining Association of Canada has the Towards Sustainable Mining program, a set of tools and indicators adopted by its members to drive performance and responsibly manage mining risks—but it needs wider adoption across Canada and beyond. In another approach to standardizing what responsible mining looks like on a global basis, the Initiative for Responsible Mining Assurance has brought together a group of major mining, electronics, jewellery and steel companies, NGOs, affected communities and labour unions to establish a multi-stakeholder and independently verifiable responsible mining assurance system, focused on improving both social and environmental performance.
But Toward Sustainable Mining only applies to members of the Mining Association of Canada, and the Initiative for Responsible Mining Assurance  is voluntary—providing no guarantee that Canadian mining operations will deliver this standard of performance. To do so requires that the federal and provincial governments employ robust regulations that can maintain the confidence of Canadians. By adopting a high bar for sustainability performance, Canadian mines would not only achieve greater community and public support, they would also be well-positioned to sell their products to an increasingly discerning clean energy marketplace.
While it may be surprising to some, Canada's mining sector can play an essential role in enabling the technologies that will help the world address climate change. Closer to home, the clean energy transition—and its demand for metals and minerals—offers mining workers and communities across Canada new opportunities for economic development and revitalization.
There is a global market in search of both resources and resourcefulness, and Canada is uniquely positioned to deliver both. It's an opportunity not to be missed.
This article was co-authored by Merran Smith, executive director of Clean Energy Canada. You can read our mining report here.
Photo: Copyright © 2017 Rio Tinto