Clean Energy Canada | Liberal climate platform builds on policy foundation laid in first term
October 1, 2019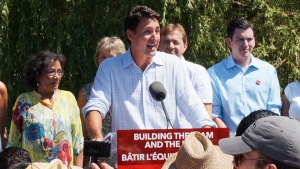 VICTORIA — Dan Woynillowicz, policy director at Clean Energy Canada, made the following statement in response to the Liberal Party of Canada's platform commitments to fight climate change. In the lead-up to this year's federal election, Clean Energy Canada has responded to every federal party's climate plan.
"The Liberals have laid out plans to build on the foundation of climate policies and programs they introduced while in government, which would cut three-quarters of the carbon pollution needed to hit Canada's 2030 target. Now they are signalling ambition to surpass our current 2030 target, as well as pledging to make Canada a net-zero emitter by 2050, consistent with both science and commitments from other leading countries.
"More significant than targets is a commitment to establish legally-binding, five-year milestones, which would create greater accountability in the near-term.
"The platform identifies similar areas of focus as the NDP and Green plans: more and cleaner public transit, increasing the number of zero-emission vehicles on the road, generating more clean power, and building and retrofitting more energy efficient homes. While not as aggressive as those plans, the proposed policies, programs, and investments are generally laid out in greater detail. It also contrasts the Conservative plan, which independent modelling has shown would undo Canada's progress to date and lead to an increase in total carbon pollution by 2030.
"Analysis has shown that turning up the dials on current policies and regulations could enable Canada to achieve its 2030 target, and while the platform notes it would strengthen existing rules, including for oil and gas, no details are provided.
"The Liberal plan is unique, however, in its identification of electrification as a strategic opportunity to make Canadian industries and manufacturing the cleanest in the world, supported by a proposed $5-billion Clean Power Fund sourced from the Canada Infrastructure Bank.
"The 50% reduction in corporate income tax for companies developing and manufacturing zero-emission technologies would indeed serve as a strong enticement for companies to remain and grow in Canada. Tax incentives may also attract global cleantech companies to set up shop here, a tactic that's proven successful in our film industry.
"Meanwhile, some measures have benefits beyond just cutting carbon pollution. A Just Transition Act to provide workers with training and support could help smooth the shift away from polluting industries. And the fund to help get 5,000 electric transit and school buses on roads over the next five years would improve air quality for commuters and children.
"While it's true that the Liberal Party did not fully close the gap in our Paris target—and, yes, approved a pipeline that was a step backward—the measures the party enacted while in government helped Canada get roughly three-quarters of the way toward that target. These new commitments would close that gap further, and we would hope to see it closed entirely in the near future."
RESOURCES
Release | Conservatives fail to deliver 'a real plan' on climate
Release | Green Party of Canada sets a high bar with climate platform
Release | NDP helps set the stage for a battle of climate plans
Brief | Anybody can have a climate plan, but what makes for an effective one?
Poll | Broad support for a range of policies—including carbon pricing—to help reduce emissions and fight climate change (Abacus Data and Clean Energy Canada)