Clean Energy Canada | Infrastructure plan charts Canada's course to resilient recovery
October 1, 2020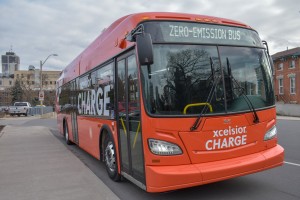 TORONTO — Sarah Petrevan, policy director at Clean Energy Canada, made the following statement regarding the Prime Minister's announcement of a $10-billion infrastructure plan:
"At a time when some of the world's biggest banks and financial institutions are putting climate at the forefront of their recovery efforts, it's vital that Canada does the same. The Infrastructure Bank's new plan will help build a more competitive and resilient economy—creating jobs for Canadians while tackling climate change.
"In particular, we welcome:
$1.5 billion earmarked for zero-emission school and transit buses and charging stations so Canadians have healthier, pollution-free commutes. This investment goes beyond cutting carbon pollution—it's also an investment in Canada's four electric bus manufacturers and the local jobs they provide.
$2 billion for large-scale building retrofits that will get Canadians back to work while helping businesses save money and waste less energy.
$2.5 billion towards renewable energy and storage technologies, as well as delivering clean power to the communities that need it. While Canada's grid is already one of the cleanest in the world, we must continue to invest in technologies that help to make it even cleaner and ensure all Canadians can reap the benefits.
"The federal government said during last week's Throne Speech that it would make climate the 'cornerstone' of its recovery. Today's announcement sends a signal that it intends to act on this promise."
KEY FACTS
Canada's clean energy sector already employs 300,000 Canadians and is projected to employ over half a million by 2030.
Compared to funding for fossil fuels, clean stimulus creates nearly three times as many jobs for every dollar invested by governments, according to McKinsey.
Electric buses are expected to account for two-thirds of all buses on the road and nearly 80% of new bus sales by 2040, according to Bloomberg New Energy Finance.
There are four electric bus manufacturers in Canada: GreenPower Motor Company, The Lion Electric Company, New Flyer Industries and Nova Bus.
RESOURCES
Report | Catching the Bus: How smart policy can accelerate electric buses across Canada
Op-ed | 'Clean stimulus' isn't idealistic, it's good economic policy
Op-ed | What should public transit look like post-pandemic? Clean, comfy and electric
Media Brief | Clean stimulus: the research behind it and the countries adopting it