Clean Energy Canada | Batteries are Getting Cheaper, Plus Four Other Essential EV Facts
October 29, 2014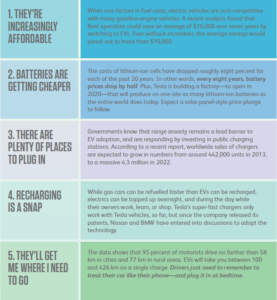 Plug-in electric vehicles, or EVs, are an increasingly attractive option for individuals and companies interested in reducing their fuel costs and pollution. A range of vehicles are now widely available, and governments are implementing policy support to get them into broader circulation. Navigant Research, a leading firm, expects more than 35 million EVs will be on roads worldwide by 2022. Here's what you need to know about the plug-in paradigm shift.
Excerpted from from Tracking the Energy Revolution – Global 2014.