Clean Energy Canada | Expanding and electrifying public transit exemplifies the recovery Canada needs
February 10, 2021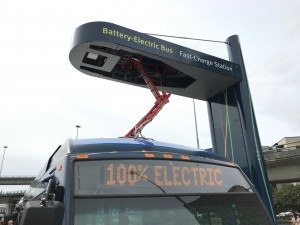 TORONTO — Sarah Petrevan, policy director at Clean Energy Canada, made the following statement regarding the prime minister's announcement of public transit funding:
"Millions of Canadians rely on public transit for their daily commutes. At the same time, transit is an important climate solution that reduces pollution by taking cars off the road and improving the air we breathe.
"Today's announcement of nearly $15 billion to expand and electrify public transit systems will help Canada accelerate toward its climate goals. It's also an investment in Canada's economy at a pivotal time.
"Already, more than 120,000 Canadians work in public transit across the country, but this new funding also represents an investment in Canada's manufacturing industry. Canada is home to at least six electric bus manufacturers, five of which are Canadian-owned. Buying locally helps scale these companies to better compete in a world that's moving quickly.
"Focusing Canada's recovery efforts on transit also ensures public dollars are being invested fairly and inclusively. After all, there's no first-class subway car.
"Investing in transit perfectly reflects the sort of recovery we need: one that rebuilds our economy, supports Canadian companies, and aligns with our climate efforts."
KEY FACTS
A 2019 report by Clean Energy Canada and Navius Research found that more than 121,000 Canadians work in public transit.
Electric buses are expected to account for two-thirds of all buses on the road and nearly 80% of new bus sales by 2040, according to Bloomberg New Energy Finance.
B.C.'s TransLink estimates that each electric bus swapped in for a diesel version saves 100 tonnes of carbon pollution per year.
Recent studies have found that 70% of riders say their experience is improved by electric buses compared to diesel buses. In the City of Edmonton, riders feltthey outperformed their diesel equivalents on comfort, noise, and quality of ride.
Vancouver and Halifax found that electric buses could save fleets tens of thousands of dollars per bus per year on fuel and maintenance.
Canada is home to at least six electric bus manufacturers, five of which—GreenPower Motor Company, The Lion Electric Company, New Flyer Industries, Nova Bus and Grande West—are Canadian-owned.
In 2019, the government of Canada agreed to increase the use of low- and zero-emission commercial vehicles by making the Drive to Zero pledge.
RESOURCES
Report | Catching the Bus: How smart policy can accelerate electric buses across Canada
Op-ed | What should public transit look like post-pandemic? Clean, comfy and electric
Op-ed | 'Clean stimulus' isn't idealistic, it's good economic policy