Clean Energy Canada | Energy transition is now Canada's energy reality, so are the jobs that come with it
June 28, 2021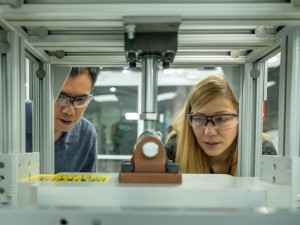 Last year, saw a collapse in global energy demand brought on by the pandemic—the biggest drop since the end of the Second World War.
It might seem like a sombre lead for an op-ed about Canadian energy, but there was something unusual about the drop. While most energy sources struggled, renewable energy actually grew worldwide. Not only was it the only energy sector to do so, it grew at its fastest pace in almost two decades, according to the International Energy Agency. In short, when it comes to energy, there are two stories unfolding simultaneously.
A new report from Clean Energy Canada and Navius Research, The New Reality, explores the energy picture here in Canada over the next decade, revealing Canada's own diverging energy story. And if there's one thing we can be sure of, it's that Canada's clean energy sector—like global renewables—is growing fast.
Already, Canada's clean energy sector employs 430,500 people—more than the entire real estate sector—and by 2030, that number is projected to grow almost 50 per cent to 639,200. At the same time, Canada's fossil fuel sector will see a nine per cent drop in employment. In terms of raw numbers, those 208,700 new clean energy jobs far exceed the 125,800 lost in fossil fuels.
Beyond just renewable power, Canada's clean energy sector is made up of companies and jobs that help reduce carbon pollution, whether by generating clean energy, helping move it, reducing energy consumption in transportation, buildings, and industry, or making low-carbon technologies. It includes a whole range of jobs, from the worker assembling battery packs for new electric buses to the insulator retrofitting homes so they waste less energy.
Similarly, the clean energy sector's GDP is forecast to grow by an impressive 58 per cent by 2030—significantly more than the nine per cent growth expected in fossil fuels.
What's more, these diverging stories are particularly pronounced in Canada's biggest oil-producing regions. Clean energy jobs in Alberta are set to increase a huge 164 per cent over the next decade—the greatest increase of any Canadian province—while Saskatchewan will also see clean energy jobs double.
The recent announcement of a $ clean hydrogen facility in Edmonton is just one recent example of the energy transition becoming our new energy reality.
But this massive clean energy sector growth depends, in part, on policy. We included the policies in the federal government's latest climate plan in our model. When the same model is run under the weaker policies that existed prior to the December 2020 plan, we see 85,000 fewer jobs in clean energy and 17,400 fewer jobs in Canadian energy overall in 2030.
Climate action is no longer just a pollution-cutting imperative but an economic one too if we're to transform Canada's energy economy. Around the world, leaders and decision-makers are taking action to cut pollution and build their respective clean energy sectors. Already, 127 countries—including the U.S and Canada—representing 63 per cent of the world's emissions have adopted or are considering net-zero targets. And as those countries decarbonize their economies, they'll be looking to trade with others that can supply the low-carbon goods and services they need.
The good news is that Canada's clean energy sector is positioned to thrive, with many innovative companies already exporting their clean products. Ontario-based Li-Cycle produces and sells recycled minerals from old car batteries to international clients like LG and General Motors. Ballard Power and Loop Energy are supplying their hydrogen fuel cell technology to countries in Europe and Asia. Nova-Scotia-based CarbonCure, which uses captured carbon to make cleaner, stronger concrete, sells its technology all over the world.
And the opportunity extends beyond just the clean energy sector. Canada's mining sector too stands to benefit from the increased demand for certain natural resources—like lithium and nickel—as the world switches to electric vehicles and clean power. Many of Canada's heavy industries, like steel and cement, make cleaner products than international competitors, giving them an edge in an increasingly low-carbon world.
The energy transition, like climate change itself, does not respect borders, and Canada has the ingredients needed to prosper in a future in which oil is no longer its largest export. As the International Energy Agency recently concluded, if the world is to reach net-zero emissions by 2050, no new oil and natural gas exploration and development will be needed going forward.
Oil and gas may have dominated Canada's energy past, but it's Canada's clean energy sector that will define its new reality.
This post originally appeared in the Hill Times.