Clean Energy Canada | COP27: No deal to phase out oil and gas, but the energy transition continues
November 21, 2022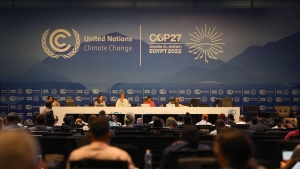 Climate negotiations at the United Nations Climate Change Conference, better known as COP, are over for another year. What can we take away from its 27th iteration?
With the backdrop of war in Ukraine and a global energy crisis, expectations going into this year's conference, held in Sharm el Sheikh, Egypt, were decidedly low.
Adding to the pressure were reports from the UN and International Energy Agency indicating that the world is still set to soar past the warming limit set by the Paris Agreement. Combined with a series of climate disasters in 2022, the stakes (unlike the expectations) were high.
Now that COP27 is over and the dust has settled, we highlight some of the main points of discussions and outcomes from the last two weeks—and what they mean for Canada.
On the big issues, one step forward and one step back
Two issues loomed large over COP27.
The first was "loss and damage," the principle that wealthy countries should compensate vulnerable nations for the growing costs of climate disasters (in addition to the US$100 billion in climate finance for mitigation and adaptation that developed countries have committed to). For the first time, countries reached a deal to set up a loss and damage fund, viewed by some as a "historic" step forward.
However, as this year's devastating Pakistan floods showed, the human and economic costs of climate change are already significant at just over 1C of warming—and only expected to rise. Reducing emissions from burning oil, gas, and coal is the cheapest and most effective way to limit the future impacts of climate change.
This was the second key issue that COP tried to grapple with and, unfortunately, failed to make any headway on. Despite support from 80 countries—including Canada, the EU, U.S., and India—COP27 failed to reach a deal to "phase down" oil and gas alongside coal (agreed to at last year's summit). This outcome puts the target, already in jeopardy, on life support.
Our friends want clean energy, not fossil fuels
Spoiling the emerging narrative that Canada's friends need more of our oil and gas, the EU in effect said "thanks but no thanks." Instead, the EU's climate chief made it clear that despite the energy crisis, it has no plans to backtrack on its climate targets and will come armed with a strengthened target at COP28 in 2023.
Meanwhile, more than 80 countries at COP27 supported a proposal to phase down the use of all fossil fuels. This should give Canada's federal and provincial governments much food for thought.
Signs of progress too
We also saw signs that the world is inching in the right direction:
A thaw in relations between the world's largest polluters, the U.S. and China, who appear to be on speaking terms again (at least on climate). And a promise from incoming president Lula that "Brazil is back." 
On clean energy, Indonesia reached a deal with the U.S., Japan, and several other countries to provide US$20 billion (of which half will be private finance) to transition its electricity grid off coal. This is the second deal negotiated under the Just Energy Transition Partnership. If successful, it could catalyze future deals with other emerging, carbon-intensive economies.
On transportation, the U.S. joined Canada and 15 other countries by committing to 100% zero-emission truck and bus sales by 2040. Growth in passenger EVs shows no signs of slowing, with sales increasing 60% to more than 10 million in 2022. 
On heavy industry, COP saw a number of pledges to increase the supply of near-zero emission materials while also scaling up demand. Canada has a key role to play in these initiatives as a lead member of the Industrial Deep Decarbonization Initiative and Cement Breakthrough. 
Barbados (responsible for under % of global emissions) received widespread support for its plan to raise over US$1 trillion in climate financing from international institutions and by taxing oil companies. 
As net-zero pledges by banks and private companies proliferate, so do concerns around greenwashing and inconsistent lobbying. A UN group—led by former federal Environment Minister Catherine McKenna—issued a set of guidelines to separate fact from fiction when it comes to net-zero claims. 
Though easily forgotten amid the binary narrative of the overall agreement's success or failure, these multilateral, sub-global efforts show the COP process at its best.
While the conference is over for another year, climate change will take no such hiatus. It's now up to Canada's governments to accelerate the energy transition here at home. After all, real global climate progress is achieved through the accumulated actions of individual countries.