Clean Energy Canada | Conservatives fail to deliver 'a real plan' on climate
June 19, 2019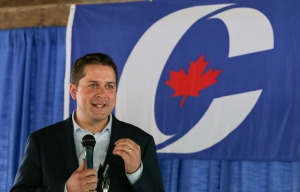 VICTORIA — Dan Woynillowicz, policy director at Clean Energy Canada, made the following statement in response to the Conservative Party of Canada's climate plan, unveiled today. Clean Energy Canada will be responding to every federal party's climate plan as they're released.
"What was announced today fails to live up to its billing as a comprehensive plan—in fact, it's not really a plan at all. We're left to wonder how much pollution it would cut, how close it would take us toward our pollution reduction target, and how much it would cost. In short, it fails to provide Canadians with a clear apples-to-apples comparison.
"The Conservative document is built on three pillars, none of which do much to reduce Canada's carbon footprint: research and development, environmental protection (a separate issue from climate change), and global emissions.
"Let's be clear, research and development itself doesn't cut pollution. You need to deploy technology to do this, and this plan will do little to help get more clean technology adopted by industry, installed in Canadians' homes, and onto our roads. There's a place for R&D, but at this stage, research is a nice side dish, not the main course. We already have the technology we need to cut pollution today.
"While Canada can and should look for opportunities to export our clean technology abroad, it may prove impossible to secure 'credits' for emission reductions in these countries. We need to focus on pollution cuts in our own backyard. That's how the 197 parties to the UN Framework Convention on Climate Change have agreed to account for pollution cuts and address the global problem of climate change.
"Also worrying is that today's announcement put a number of effective climate policies under threat—not just pricing carbon pollution. It appears that Canada's clean fuel standard, which by some measures will cut even more pollution than carbon pricing, will also be significantly scaled back. And we do not know the fate of a number of other policies—for example, if Canadians will still be able to receive rebates for electric cars and whether a Conservative government would follow Trump's lead in rolling back vehicle emission regulations. In fact, the plan has little to say about transportation, which accounts for 25 per cent of Canada's carbon pollution.
"On Monday the Conservative party chose not to join the Liberals, NDP, Greens, and the Bloc Quebecois in standing up to declare that climate change was a national emergency. The reasons for that decision appear evident today. Because in an emergency, you debate how to do more—not less. Based on the information available, the Conservative plan would fail to deliver what Canadians expect: less pollution and more opportunity as the world shifts to clean energy."
KEY FACTS
In a survey of 365 economists with climate expertise, 81% said that carbon pricing was the most efficient way to cut carbon pollution.
The clean energy sector already employs 300,000 Canadians and is growing at a faster rate than the Canadian economy as a whole.
The Fort McMurray fire was 1.5 to 6 times more likely because of climate change, while the 2017 record-breaking B.C. wildfire was 7 to 11 times more likely, according to a University of Alberta professor .
A new study found the 2018 heatwave, which killed 74 people in Montreal, would have been "impossible" without climate change.
1-in-100-year flood events in Toronto and Montreal are expected to become 1-in-15 year events by the end of the century as a consequence of climate change, according to a study by scientists from Western University and the National Research Council of Canada.
RESOURCES
Blog Post | Anybody can have a climate plan, but what makes for an effective one?
Recommendations | Climate Action Network's Climate Plan Expectations
Poll | Broad support for a range of policies—including carbon pricing—to help reduce emissions and fight climate change
Report | Missing the Bigger Picture