Clean Energy Canada | Clean Growth is More Than a Goal—It's a Reality
August 29, 2018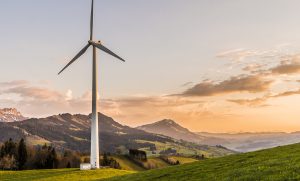 Protests. Politics. Polarization.
Whether you're reading a newspaper, tuning into the news, or scrolling through Twitter, you'll notice a common theme: coverage of energy and climate change is dominated by pipelines.
Are pipelines a serious matter? Certainly. And yet the time and attention they consume risks distracting Canada's business and political leaders from the much broader and deeper shifts occurring in the world's energy system.
The costs of renewable electricity—such as wind and solar power—are falling year after year, while more and more projects are seeing massive investments. But electricity isn't the only chapter in this transition's story. The tale unfolding in transportation promises to be just as disruptive.
Consider this: A record-setting 1.1 million electric cars were sold in 2017, and roughly half of those were sold in China, which saw a 73 per cent increase in EV sales over 2016. There are now more than three million electric cars cruising roads around the world, and over a million of those are in a single country.
China is now also the world's biggest manufacturer of electric cars and is home to an incredible 487 EV makers.
So, why is China all-in on EVs?
As Amy Myers Jaffe of the Council on Foreign Relations wrote recently, "China is banking on clean energy technologies as major industrial exports that will compete with U.S. and Russian oil and gas and make China the renewable energy and electric vehicle superpower of a future energy world."
Anthony Milewski of Pala Investments put it even more simply: "China, unabashedly, wants to be the Detroit of electric vehicles."
And this push to electrify isn't limited to passenger vehicles. There are a growing number of electric buses, bicycles, garbage and transport trucks, even ferries.
Last year, China put 90,000 fully electric buses on its roads, and in December the city of Shenzhen announced that all 16,359 vehicles in its fleet were electric. To put that in perspective, New York City has one-third as many buses, period.
And by no means is this transition confined to China. Britain, France, Germany, Norway, the Netherlands, Scotland—and yes, China—have all announced they will eventually prohibit the sale of gas- and diesel-fuelled vehicles.
The transportation transition is happening here in Canada, too, albeit more slowly. While we're trailing leading jurisdictions, Canada saw a 68 per cent increase in electric car sales in 2017 over the previous year. The Toronto Transit Commission, meanwhile, recently placed an order for ten electric buses from New Flyer's Canadian subsidiary in Winnipeg, with an option for another 30. This was followed by an order for 40 more from BYD, China's leading EV maker. (BYD will also supply Seattle with electric garbage trucks early next year.)
As momentum builds, so too do projections for the rapid uptake of EVs around the world. In its most recent outlook, the International Energy Agency projected there could be as many as 228 million EVs on the road by 2030, including passenger vehicles, commercial vehicles, buses and trucks. Counting electric two- and three-wheelers—which are incredibly popular in developing countries—that would add another 585 million vehicles. The sum total? Closing in on a billion EVs on the road in a little over a decade.
It's little wonder these projections are sending shockwaves through the auto and oil sectors—driving an accelerating evolution of their business models and product offerings.
By Bloomberg New Energy Finance's count, at the end of 2017 there were 156 electric car models to choose from, up from just 97 at the start of 2016. By 2020, the number of available models will grow to 217. And that number will keep ticking up as more and more vehicle companies set new targets for model offerings and electric car sales.
Evolution is also underway among the world's largest publicly traded oil and gas companies. Total, a top player in solar and battery power, aims for low-carbon business to account for 20 per cent of its portfolio by 2035. Statoil has made big investments in offshore wind power, drawing on its experience with offshore oil drilling; the company plans to invest roughly C$16 billion in renewables by 2030. And BP is once again investing heavily in solar, wind and biofuels.
Perhaps most significant are the moves by Shell, whose CEO, Ben van Beurden, put it bluntly last year: "Societal acceptance of the energy system as we have it is just disappearing." His next car, he said, will be electric, but that's just the tip of the melting iceberg. Shell announced last year that it will be investing up to $2 billion annually in clean energy by 2020—while also divesting all of its Canadian oilsands assets. These investments and acquisitions span EV charging networks in the U.K., hydrogen refuelling stations—including here in Canada—and wind, solar and other renewable energy technologies around the world.
It's a smart move, according to a recent report from Wood Mackenzie, which says oil and gas companies that adopt renewables early will be at a competitive advantage, while slow adopters could find themselves at a structural disadvantage. Their analysts—among the financial community's most respected—have projected that oil demand could peak by 2036, the result of a "tectonic" shift in transportation toward electric and autonomous vehicles.
While Canada's oil and gas sector remains focused on doing what they've always done, other businesses are moving aggressively to seize part of the growing global market for low-carbon goods and services—now worth $5.8 trillion and growing by 3 per cent a year.
Toronto-based Hydrogenics and Vancouver-based Ballard Power, for example, produce fuel cells that convert hydrogen into clean electricity. Growing Chinese and European demand have been a boon for them, in applications ranging from forklifts to trains and buses.
Also based in Vancouver, all-electric bus company GreenPower has joined traditional Canadian bus companies including Lion and New Flyer in offering electric buses to the growing number of transit agencies around the world that are looking to clean up their fleets.
And Canada's two largest auto parts makers—Magna and Linamar—have both diversified into EVs. Just this past June, Magna signed a deal with China's BAIC Group—the parent company of Beijing Electric Vehicle Co.—to build electric cars in China.
While this accelerating transition poses challenges to oil companies, it offers new opportunities for the mining industry due to growing demand for a range of metals needed for EVs and their batteries. As the CEO of the Mining Association of Canada recently noted, "For the mining sector, a shift to a low-carbon economy has a lot of potential upsides because the kinds of materials that are going to be needed will grow exponentially."
Canadians understand the need to transition. When asked about the best way forward for Canada's economy in an Abacus Data public opinion survey last year, just one third suggested Canada should prioritize promoting the use of Canada's oil and gas. Two-thirds said Canada should prioritize other ways of growing our economy.
In a follow-up survey, 74 per cent agreed that the pace of innovation in new forms of energy is quick, and Canada must be part of this new energy revolution—and not fall behind because of a reliance on oil.
What does all this boil down to for Canada?
The very real risk of falling behind. Not fully seizing a world-shifting opportunity.
Clean growth is more than an goal—it's a reality. As the world combats climate change, growth is shifting away from century-old fuels and technologies toward clean energy solutions. We would be wise to prioritize present trends over past ones—with an eye to the future.
Whether or not more pipelines should be pursued, the global energy transition is happening with or without us. And Canadians don't want to be left behind.
This article was co-authored by Merran Smith, executive director at Clean Energy Canada, and originally appeared in Policy.