Clean Energy Canada | What is a clean fuel standard? Lessons from B.C.
November 25, 2016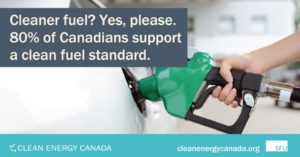 One of B.C.'s most effective climate policies is so affordable that most British Columbians don't even realize it exists. What's more, B.C. is the only province in Canada currently employing it. Or rather, it was.
A clean fuel standard, which the federal government announced it will be expanding and implementing nationwide, ensures every litre of gas or diesel that drivers use is cleaner—while also rewarding companies for providing electricity and hydrogen for use as fuels in cars and trucks.
And while B.C.'s policy took effect in 2010, it's been a very quiet success story, reducing pollution while attracting virtually no opposition—which is perhaps a reflection of just how little it hits British Columbians at the pump.
We've estimated that a national clean fuel standard could reduce carbon pollution by as much as 30 million tonnes in 2030 alone
Cutting carbon pollution
By climate measures, B.C.'s clean fuel standard (known as the Renewable and Low-Carbon Fuel Requirements Regulation) has been a big success. The policy—which, among other things, requires gasoline and diesel sold in B.C. to include a blend of renewable fuels—has been responsible for a quarter of the province's carbon pollution reductions between 2007 and 2012. B.C. committed to strengthen the policy in its most recent climate plan and expects the policy to avoid 3.4 million tonnes of carbon pollution, equivalent to taking 800,000 cars off the road.
We've estimated that a national clean fuel standard could reduce carbon pollution by as much as 30 million tonnes in 2030 alone. So we think the goal the federal government has set for the policy—reducing emissions by 30 million tonnes in 2030—is entirely achievable. It's also a big step toward achieving Canada's climate target, since the 2030 emissions reductions are equivalent to taking more than six million cars off the road that year.
How B.C.'s policy works
B.C.'s standard—which also has versions in California and Oregon—requires refiners to supply the province with gasoline and diesel that emits less carbon pollution, or provide fuels that pollute less. It accounts for as full a picture of carbon pollution as possible: not just the pollution created when fuels are burned in cars and trucks, but the pollution that comes from extracting, transporting and processing them before they reach the gas pump.
The standard becomes stronger over time. In response, transportation and fuel companies will accelerate clean innovation to meet more stringent goals.
Designed to be flexible
The standard gives companies many options to hit their targets. Fuels that come from plants (biofuels) can be blended into diesel or gasoline, but the standard also allows companies to get credit for using electricity, natural gas or hydrogen to power cars and trucks. That flexibility makes the policy cost-effective, as the various clean technologies compete with each other to provide the lowest-cost solution.
In B.C., fuel suppliers have the option to buy credits from other fuel suppliers whose fuel goes above and beyond the requirements—creating a reward for those at the front of the pack.
Near and far
By targeting the fuel in today's vehicle tanks, this standard helps clean up every single car on the road in B.C. today. Considering that transportation accounts for a quarter of Canada's carbon pollution, improving today's fossil fuels is an essential piece of the puzzle.
But because it also supports an energy transition in the transportation sector—accelerating the use of electric, hydrogen and plant-based fuels—it's laying the groundwork for a much cleaner future.
Clean growth
A national clean fuel standard will create a bigger market for cleaner fuels, driving investment in Canada's clean fuel sector. Like any market, the clean fuel one works better with more options—but even on its own, B.C.'s policy has helped spur clean growth.
There are now more than 50 different fuel suppliers producing roughly 135 different fuels in the province. Over the past two years, Chevron has upgraded its terminal on Vancouver Island and is now bringing ethanol to its customers there. But the policy's beneficiaries are literally all over the map, from farmers finding a new market for their waste products to clean tech researchers in university labs.
The federal government's decision to broaden the standard beyond transportation fuels promises to create even more economic winners—and is the kind of climate policy innovation we haven't seen from Ottawa in a long time.
It's early days for a Canadian clean fuel standard. While today's announcement drew the outline, many details still need to be coloured in. But Ottawa has chosen a smart policy tool with a proven track record of success.