Clean Energy Canada | Canada's updated 100% zero-emission vehicle sales target points to a clear solution
June 29, 2021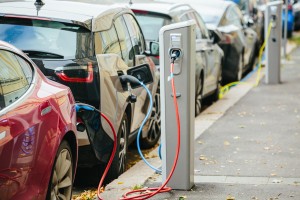 OTTAWA— Joanna Kyriazis, senior policy advisor at Clean Energy Canada, made the following statement in response to the federal government's announcement of new zero emission vehicle commitment:
"The news today that Canada will move forward its target of ensuring all car sales are for zero-emission vehicles by 2035 is certainly a step in the right direction—and aligns the country with other leading jurisdictions like California and Quebec that also have 2035 deadlines.
"Most importantly, the federal government has stated its intention to regulate this requirement, though the mechanism to achieve this outcome remains unannounced. Implemented measures—as opposed to just targets—are vital. They're the difference between good intentions and actual action.
"And as Western Canada has been experiencing in recent days, climate change demands action.
"Aside from the two provinces that already have similar policies in place (B.C. and Quebec), Canada is falling behind other countries like the U.K., France, and Germany, which all saw EV sales surge last year. Ontario, especially, is lagging far behind despite its economic heft and sizable auto sector.
"The reason? While there is plenty of demand for electric vehicles, supply can be a challenge—and tends to go to places with supportive EV policy. Despite their popularity and the cost-savings of going gas-free, many Canadians are being left out.
"The solution is an electric vehicle standard, requiring automakers to sell an increasing percentage of EVs in the country. This policy is already helping put more electric vehicles on the road in B.C., Quebec, California and 11 other U.S. states, and China.
"We also know that getting more Canadians in EVs—from cars to buses—is critical to building out Canada's fast-growing electric vehicle manufacturing sector. If we want to be leaders in building EVs and their batteries, we need to grow the market for them at home."
KEY FACTS
According to the International Energy Agency's Net Zero by 2050 report, ending the sale of new internal combustion engine cars by 2035 is a necessary step toward achieving net-zero emissions by 2050.
Driving an EV reduces your carbon footprint no matter which province you live in. Replacing gas vehicles with electric ones in B.C., Alberta, and Ontario today would reduce their emissions between 34% and 98% (factoring in both the pollution from driving a gas car and pollution from the electricity grid that charges the EV), and between 46% and 87% by 2050, according to the Sustainable Transportation Action Research Team at Simon Fraser University.
A typical Canadian EV driver will save $800 to $2,000 dollars a year in "fuel" costs compared to a gas car driver, and a few hundred dollars per year on maintenance, since EVs have far fewer parts and need less frequent repair.
The fastest growing clean energy industry over the next decade is EV technology, with jobs on track to grow 39% per year to reach 184,000 in 2030—a 26-fold increase over 2020, according to Clean Energy Canada's latest report.
More than a dozen countries around the world have announced plans to phase out the sale of new fossil-fuel-powered cars by 2050 or earlier, as have B.C. and Quebec. The U.K. has committed to ending the sale of new petrol and diesel cars and vans by 2030, 10 years earlier than originally planned.
In addition to Quebec and B.C. and countries such as China and South Korea, 12 American states have adopted a zero-emission vehicle standard accounting for a third of new U.S. car sales: California, Connecticut, Maine, Maryland, Massachusetts, New York, New Jersey, Oregon, Rhode Island, Vermont, Colorado, and most recently, Virginia.
60% of Canadians say they are certain or inclined to buy an electric vehicle as their next car, according to a Clean Energy Canada / Abacus Data poll from December 2020.
RESOURCES
Media brief | What is a 'zero-emission vehicle standard' and why does Canada need one?
Report | Taking the Wheel
Poll | Electric vehicles are picking up speed in public support