Clean Energy Canada | Canada's new green procurement standards can drive down emissions while boosting Canadian industry
February 28, 2023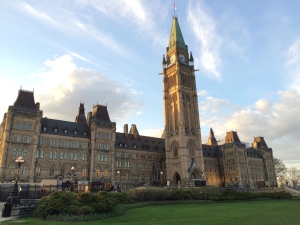 TORONTO — Ollie Sheldrick, clean economy program manager at Clean Energy Canada, made the following statement in response to the federal government's new green standards for major government contracts.
"Clean Energy Canada welcomes the announcement made today by Minister Fortier and Minister Guilbeault on new federal clean procurement standards.
"Government procurement accounts for 13% of Canada's GDP and up to one third of the market for construction materials. Green procurement policies can help drive down emissions and support low-carbon Canadian companies and their workers.
"These two standards will help move procurement away from the current lowest-cost model, which prioritizes cheap but often carbon-intensive products. By requiring companies to disclose their emissions and develop net-zero strategies, the government is following in the footsteps of the U.S., U.K., and other countries by sending a signal that climate performance is a key consideration in how and what it buys.
"The recently enacted Standard on Embodied Carbon in Construction is a first step toward delivering on the government's platform and mandate letter commitments to develop a national "Buy Clean" strategy to prioritize low-carbon materials in public infrastructure projects. With many Canadian companies developing innovative low-carbon concrete solutions, the new standard will also support our local cleantech sector, though steel and other emissions-intensive materials should also be included in the policy's next iteration.
"It is worth noting that many Canadian industry associations—representing cement, steel, aluminum, and forestry—are already supporters of this policy, as their products are often lower-carbon than those of their international peers. "Buy Clean" puts a premium on environmental performance, and in doing so is a climate policy with both industry and environmental buy-in.
"While we are pleased to see the federal government acknowledge the role of procurement, Clean Energy Canada's research has shown that the real opportunity to "Buy Clean" lies beyond its immediate jurisdiction. To meet the true economic and emissions potential of such a policy, the federal government must work with provinces, municipalities, and Crown corporations to expand "Buy Clean" nationally.
"We hope to see leadership from both the federal and provincial governments on this important file in the coming months and years." 
RESOURCES
Report | Money Talks: How government procurement can drive down emissions and boost Canadian industry
Report | Lessons from the United States on "Buying Clean" and recommendations for Canada