Clean Energy Canada | Budget 2017 positions Ottawa as first customer for clean energy innovation
March 31, 2017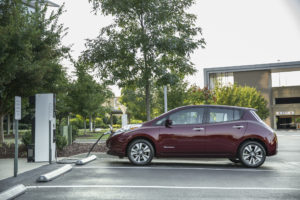 Opening the Government of Canada's budget papers last week felt strangely celebratory. Budget day happened to fall on my birthday, and one of the policies I care about most is getting public procurement right. So it felt like unwrapping a gift when I read Ottawa's new procurement plans, which will help spark clean energy innovation.
Clean growth is about strengthening the economy and creating jobs while reducing carbon pollution. It's been a major focus for the Government of Canada, and that emphasis produced the Pan-Canadian Framework on Clean Growth and Climate Change last December. Ottawa's 2017 budget provided funding to put that plan into action, and also offered new support for clean technology.
A signature element of that support is found on pages 85-86, in a policy called "strategic procurement". Procurement can be an essential tool for achieving clean growth, because of the sizable role governments play in their own economies. Consider this: according to the OECD, the Government of Canada's procurement of goods and services accounts for close to 33 per cent of government expenditures, or just over 13 per cent of Canada's GDP.[1] Canada is also an export-driven economy, with 30 per cent of our GDP is derived from exports.
Now let's size up that export opportunity: Analytica Advisors, a leading research and analysis firm, focused on Canada's clean technology sector, reports that the global clean technology market is valued at more than US$1 trillion, and growing. Canada's slice of the pie, however, is shrinking—in 2014, our rank among the top 25 exporters globally fell to 19th place from 14th. Meanwhile, the top-ranked countries—including China, South Korea, Mexico and the U.S.—are off to the races.
There's a global opportunity to capitalize on demand for clean technology, and Canada needs to make up for lost time. According to Analytica Advisors, Canada's clean technology industry is strong and growing, with more than 775 technology companies employing 55,600 people—with revenue estimated at US$11.6 billion in 2014 alone. In addition, 87 per cent of these companies self-identify as export-oriented.
Through procurement, governments can use their economic heft to unlock Canada's technology potential, ultimately helping Canadian-born companies succeed in an increasingly competitive global marketplace.
One reason public procurement matters is that prospective private sector customers don't like taking on excessive risk. As the adage goes, they want to be the "first to be second." So government policies and programs designed to support "being first" help reduce demonstration risk while building confidence in new technologies.
With the Government of Canada playing the role of first customer through procurement, Canadian clean technology companies would also get first-time access to electricity grids, commercial building systems, industrial businesses, and other opportunities that are challenging for smaller companies to access. In this way, procurement can open doors into the export market, as international customers can witness technology applied and performing in a real-world setting.
An added benefit for Canada? These technologies help us reduce carbon pollution from our homes, office buildings, cars and factories.
As the budget notes, Canada's innovators have "long asked the federal government to act as a first customer"—and this year, Ottawa decided to say yes.
The government allocated $50 million, starting in 2017–18, "to launch a new procurement program, Innovative Solutions Canada, modelled on the very successful U.S. Small Business Innovation Research (SBIR) program."
Here's how the U.S. SBIR program works. Federal agencies with annual research and development (R&D) budgets of at least US$100 million set aside 2.8 per cent of that money for the program, which is structured in three phases:
Phase I: Small businesses accepted into the program can get up to $150,000 to determine the technical merit, feasibility and commercial potential of a proposed R&D effort. If Phase I results meet certain objectives, companies graduate into the next phase.
Phase II: Small businesses can access up to $1 million over two years to cover R&D costs.
Phase III: The small business pursues commercialization of what it has developed, but it no longer has access to funding under the program. What it does have is an established relationship and track record with a government department, which often becomes a "first backer" by deciding to purchase the product for its own use.
Since it was enacted in 1982, the program has helped thousands of U.S. small businesses to compete for federal R&D awards. In one analysis, 78 per cent of awardees surveyed said the support they received in Phase I and II proved key to securing additional investment outside the program, and two-thirds said they would never have been able to begin product development without the support.[2]
The U.S. SBIR program is beneficial in supporting innovative technologies because it avoids the most frequent challenge with traditional granting programs, where the amount of available funding fluctuates or is eliminated based on political or budget cycles. Instead, support becomes entrenched as part of a ministry's or department's normal allocation.
In addition, the program supports the essential stage of technology demonstration in a real-world setting. Cleantech companies need to show investors and potential customers that the technologies they have developed meet or exceed expectations. The demonstration phase gives companies an invaluable opportunity to learn and fine-tune their products and services prior to commercial launch.
Ottawa has selected a very good model to support the commercialization of new products and service offerings from small business entrepreneurs. The U.S. program has already inspired similar efforts in other jurisdictions, including the United Kingdom, the Netherlands and Japan. Therefore, this move positions Canada to catch up to its peers.
Of course, the federal government still has work ahead on the design and implementation of its new procurement policies. Those details will be important, but for now we can view Canada's commitments with confidence, and look forward to what they will deliver.
—
[1] Data extracted from: Figure 9.1. General government procurement as percentage of GDP and as share of total government expenditures, 2013, as found in the OECD report, Government at a Glance: 2015 edition.
[2] Ontario Chamber of Commerce & Canadian Manufacturers & Exporters, Spend Smarter Not More: Leveraging the Power Public Procurement, 2014.