Clean Energy Canada | Alberta Makes Breakthrough With Climate Leadership Plan
November 24, 2015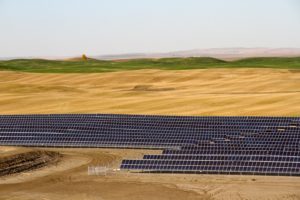 EDMONTON — The Government of Alberta made a major breakthrough today in announcing a strong and comprehensive set of climate policies. The package includes a plan to phase out coal-fired electricity generation by 2030, a commitment to generate 30 per cent of Alberta's electricity from renewable sources by 2030, new financing for energy efficiency, and an economy-wide price on carbon pollution.
Clean Energy Canada's Policy Director, Dan Woynillowicz, joined Premier Notley on stage for the announcement.
QUOTES
"With this historic announcement, Premier Rachel Notley has sent a clear message to the world ahead of the UN climate summit that Albertans are committed to doing their part to combat climate change. Canada's position at the global talks will be stronger with Alberta counted among the world's climate problem-solvers.
"Alberta's commitment to invest in climate solutions also sets a constructive and positive tone for the first ministers' meeting on Monday. Pricing carbon pollution is one of the strongest signals Alberta could send that it is serious about climate action and carbon competitiveness. This was a bold and courageous step forward."
– Merran Smith, Executive Director, Clean Energy Canada
"Today, Alberta joins the ranks of leaders in the global energy transition. Producing more clean energy, reducing energy waste and putting a price on carbon pollution will create sustainable jobs, diversify Alberta's economy and make the province more competitive and resilient in the future.
"The clean energy sector is creating new jobs faster than any other sector in the country. Setting an economy-wide carbon price and targets for renewable energy generation sends a powerful signal to the market that will drive long-term investment in Alberta's renewable energy resources."
— Dan Woynillowicz, Policy Director, Clean Energy Canada
"Today's announcement by Premier Notley that Alberta will put an economy-wide price on carbon, phase out coal and increase its commitment to renewable energy and energy efficiency represents an inspiring addition to the legacy of leadership and forward thinking action by Canadian provinces to speed our transition to a low carbon economy. This is also another powerful signal — well-timed on the eve of the Paris negotiations — that humanity is beginning to win our struggle to solve the climate crisis.
"We do need to win faster. And so I encourage Premier Notley, and all of Alberta, to follow this first step with continued bold action to transition away from fossil fuels."
— Statement by Former US Vice President Al Gore, Chairman of The Climate Reality Project
"Moving off of coal and onto renewables is an essential part of this global energy transition. Alberta has made the right choice in its new plans to act on climate."
— Dr. Tim Flannery, head of the Australia Climate Council and best-selling author of The Weather Makers and Atmosphere of Hope
KEY FACTS
Just 9% of Alberta's electricity generation currently comes from renewable sources such as the sun and wind (Source: Alberta Utilities Commission)
Alberta produced 267 Mt of carbon emissions in 2013, which represents 36.8% of the national total that year (Source: Environment Canada)
Global growth in greenhouse gas pollution stalled in 2014, even as the economy continued to grow, largely thanks to new renewable energy generation and energy efficiency policies. (Source: International Energy Agency)
Investors moved USD$295 billion into renewable energy generation projects last year — an increase of 17% from 2013. (Source: Clean Energy Canada)
26,900 people were directly employed in the Canadian clean energy sector in 2013, up from 23,700 in 2012. (Source: Clean Energy Canada)
RESOURCES
Clean Energy Canada's Tracking the Energy Revolution reports: Global and Canada, 2015 editions